August 10, 2021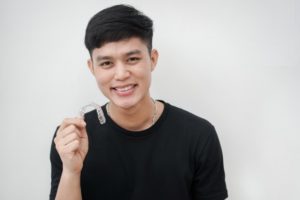 The air is getting cooler and the days are getting shorter, which means it's almost every parent's favorite season: back to school! However, you might be a little bit more weary than usual if your little one is a teenager with Invisalign. How can you make sure they don't fall behind on their treatment when you're not watching them? Here are a few practical ways you can help make sure your teen with Invisalign stays on track during the school day.
Eating at School
Naturally, it's essential that your teen has their Invisalign case with them so they can safely store their aligners during lunchtime. But what else can you do? They're likely to have sore teeth for a few days after switching to a new set of aligners, so consider packing them softer foods on those days. Additionally, if they have trouble removing their aligners, you can invest in a removal tool like OrthoKey to make this process easier and safer.
Maintaining Proper Oral Hygiene
It's essential that your teen cleans their mouth after eating before they reinsert their aligners. If they don't, their aligners can become stained, and they'll be at a higher risk of cavities. Give your teen some travel-sized toothbrushes, toothpastes, and floss picks so they can conveniently clean their smile whenever they need to.
Keeping Aligners Safe and Sound
Arguably the most important thing your teenager with Invisalign should have is their aligner storage case. Let them pick out their own case or decorate it to their liking to encourage them to use it. If your teen has a storage case they're excited to use, they're more likely to faithfully remove their aligners before eating or playing sports. Plus, they'll be much less likely to accidentally lose or throw out their aligners at lunchtime!
Fighting Off Bad Breath & Cavities
Plaque and bacteria naturally accumulate in the mouth throughout the day. Unfortunately, the longer they stay there, the more likely they are to cause problems for your teens' oral health! These particles can linger and cause bad breath, cavities, and even gum disease. You can help them keep their smile healthy with Invisalign while also encouraging them to stay hydrated by getting them a new water bottle!
Feeling Confident with Aligners
Even though Invisalign aligners are practically invisible when worn, there's a chance your teen may feel self-conscious while wearing them. Make sure to reassure them that they look fine, and perhaps take pictures of them every now and then to show them just how invisible their aligners are. If they're struggling with the slight change in speech patterns Invisalign can cause, send some time with them after school practicing pronunciation and speaking slower.
Invisalign comes with a lot of freedoms, but it also comes with a lot of responsibility. Helping your teenager stay on track with their treatment during school will set them up to become a responsible adult with a beautiful smile!
About the Practice
Wigal Orthodontics is a family-owned practice that is dedicated to serving the families of Heath, Mt. Vernon, and the surrounding communities. With state-of-the-art treatments like Invisalign alongside a friendly team truly focused on your comfort and wellbeing, each treatment plan is carefully tailored to the unique needs and goals of a patient. What's more, Dr. Wigal and his team will be with you (and your teenager) every step of the way to ensure your treatment goes as smoothly as possible. For more back-to-school tips Invisalign tips for teens, they can be reached online or at (740) 397-2111.
Comments Off

on Back-to-School Tips for Your Teen with Invisalign
No Comments
No comments yet.
RSS feed for comments on this post.
Sorry, the comment form is closed at this time.