March 4, 2020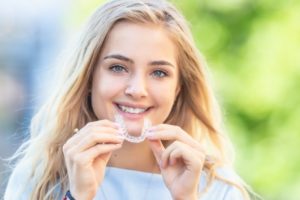 The teenage years can be challenging, as so much emphasis is placed on appearance and status. If your teenager has bite issues, metal braces are a reliable way to fix them. The problem is they aren't necessarily aesthetically pleasing. Is there another way to correct your teenager's bite and create the attractive smile he or she desires? Read on to learn about the amazing benefits of Invisalign in Newark!
What is Invisalign?
Metal braces rely on brackets, wires and bands to apply the necessary pressure to shift teeth into their correct position. The most common method of bite correction, they can, unfortunately, draw unwanted attention to the mouth.
With the low-profile and clear design of Invisalign braces, your teenager will be able to enjoy a discreet treatment process. They come as a complete series of BPA-free plastic trays that are designed by a local orthodontist, using the latest in 3-D imaging. The custom smile plan is then sent to an Invisalign-certified lab that will fabricate the trays.
How Invisalign Treatment Works
The orthodontist will disperse the trays in groups, each to be worn for around two weeks. At the completion of each two-week cycle, your teenager will exchange them for the next set in the series. To see results on schedule, he or she will also need to wear the trays for a minimum of 22 hours a day.
Here are some other treatment requirements you'll need to convey to your teenager:
Rinse and soak the trays every time they are removed.
Remove the trays before eating or drinking anything other than water.
Maintain consistent dental hygiene, which should include brushing and flossing before re-inserting the trays.
Always store the trays in their designated container and avoid leaving them in the sun or any environment with extreme temperatures.
The Perks of Choosing Invisalign
In addition to providing a discreet way to straighten teeth, Invisalign clear braces offer some other benefits. A key perk is that your teenager will be able to maintain a normal diet, which means you won't have to worry about him or her snapping an arch wire or breaking a bracket, as is a common concern with traditional braces.
It's also much easier to maintain excellent oral hygiene, since the trays are removable. Thus, there is a lesser chance of developing cavities and gum disease.
A final benefit is that Invisalign treatment is typically shorter than metal braces. That can be music to the ears of a teenager who's ready to move on to the next challenge in life. To learn more about Invisalign and find out if it's the right fit, start by visiting your orthodontist in Newark.
About the Author
Dr. Timothy G. Wigal is a graduate of the West Virginia University School of Dentistry. He additionally received a certificate of specialty in orthodontics from the West Virginia University Department of Orthodontics, as well as a Masters of Science degree. Dr. Wigal uses his vast expertise to not only create beautiful smiles, but to also improve functionality. He corrects bites with Invisalign at Wigal Orthodontics, and he can be reached for more information through his website.
Comments Off

on Invisalign – The Perfect Smile Solution for Your Teenager!
No Comments
No comments yet.
RSS feed for comments on this post.
Sorry, the comment form is closed at this time.