February 13, 2020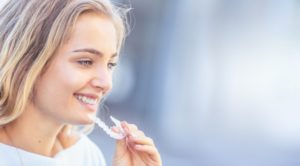 A common misconception is that once a person becomes an adult, the window for correcting his or her bite has closed. That's because most people's idea of orthodontics is wearing a set of metal braces, which is often associated with children and teenagers. While traditional braces are highly effective at straightening teeth, there is another method now available: Invisalign in Heath. How does the process work, though? And is it right for you? Continue reading to get the answers you're looking for!
Can Invisalign Work for You?
Invisalign clear braces are the perfect solution for adult bite correction. Their low-profile, clear design provides a discreet yet effective way to straighten your teeth. As an added benefit, they can usually correct your bite in less time than traditional braces.
How Invisalign Works
Made from BPA-free plastic, Invisalign clear braces are trays that apply gradual pressure to your teeth to encourage them to shift to the correct position. The process starts with an orthodontist performing an initial examination to assess your oral health and the severity of your bite issues. Then, using the latest in 3-D imaging, the specialist will map-out a complete smile plan.
The orthodontist will then send the instructions to a certified Invisalign lab that will fabricate a complete series of clear braces, and when they're ready, you'll retrieve all of them at once. You'll be instructed to wear each set of trays for around two weeks and exchange them for the next pair to further your progress.
The Advantages of Choosing Invisalign
With Invisalign clear braces, you'll get more than just straight teeth. Here are some of the other advantages you can look forward to:
A more comfortable way to fix your bite
The ability to brush and floss like you normally would
No worries about attracting unwanted attention to your smile
The ability to maintain a normal diet since the trays are removable
The first step to having your bite corrected with Invisalign is to visit an orthodontist in Heath, OH for an initial consultation. While you're there, you can get more information about the process, and once your smile plan is created, you can even get a glimpse of just how dazzling you'll look.
So even though you're now an adult, achieving a straight set of teeth and an attractive smile on the terms you desire is well within your reach!
About the Author
For several years, Dr. Timothy G. Wigal has been providing 5-star orthodontic treatment to the Heath area. He earned his dental degree from the West Virginia University School of Dentistry, and then went on to receive a certificate of specialty in orthodontics from the West Virginia University Department of Orthodontics. Dr. Wigal combines his years of experience, vast knowledge and creativity to find the perfect bite solution for his patients. He provides Invisalign clear braces at Wigal Orthodontics, and he can be reached for more information through his website.
Comments Off

on Can Invisalign Clear Braces be Used to Fix Adult Bite Issues?
No Comments
No comments yet.
RSS feed for comments on this post.
Sorry, the comment form is closed at this time.