January 21, 2020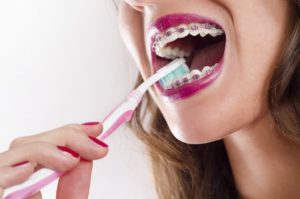 Millions of Americans have braces—about 4.5 million to be more specific. And, of this population, 80% are kids ages 6 to 18. If you have a child at home who may be needing braces in Newark, have you ever wondered whether they need their wisdom teeth removed before orthodontics? Thankfully, your expert orthodontist has the answer! Read on to ensure you're taking the right steps toward a straight smile for your son or daughter.
First, How Do Braces Straighten Teeth?
Before getting too far into some information about wisdom teeth and braces, it's important to understand how orthodontics work in the first place. Braces use a system made up of brackets and wires that apply pressure to your smile, gradually shifting your teeth into the desired position. The wire holds brackets in place, which are fixed to each tooth, and your orthodontist tightens it over time to create torque, giving you a beautifully straight smile at the end of the treatment process.
Should Wisdom Teeth Be Removed Before Braces?
While they can be taken out before braces, your orthodontist in Newark says that this is completely unnecessary. In fact, one of the reasons children are common patients for braces is that their teeth can be easily shifted compared to older patients. This means that they may get braces even before their wisdom teeth show any signs of growth.
Additionally, it's important to note that some patients may never need their wisdom teeth removed. These are typically taken out because the jaw can't accommodate another set of teeth. However, some people never need extraction because their jawbone is big enough. In some cases, your orthodontist may recommend removing your son or daughter's wisdom teeth before braces if they are showing signs of growth and could cause crowding in their smile. It all depends on your child's teeth.
Is Your Child a Candidate for Braces?
If you have a son or daughter at home who may be expecting wisdom teeth soon, take them to your orthodontist. They will carefully examine their smile and make the proper recommendation based on their findings. Wisdom teeth usually grow in during the later teens to early 20's, so for younger children, you probably won't have to worry about this problem. The best way to know if braces are right for your family member is to schedule a visit with your orthodontist. Then, they can develop a personalized treatment plan that includes helpful information like treatment time and cost.
Now that your curiosity about wisdom teeth and braces is satisfied, you can prepare for your child's orthodontic journey with confidence!
About the Practice
Dr. Timothy G. Wigal and Dr. Jason Lawrence are a team of Board-Certified orthodontists who have a passion for helping their patients smile. They offer a variety of orthodontic services to ensure that you and your family can get the treatments you need at the same location. For any questions, they can be reached through their website or by phone at (740) 281-0445.
Comments Off

on Do You Need Your Wisdom Teeth Removed Before Braces?
No Comments
No comments yet.
RSS feed for comments on this post.
Sorry, the comment form is closed at this time.