July 13, 2018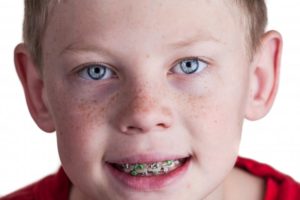 As a parent, you take it upon yourself to make sure your child gets off to the right start with his or her oral health. One way to make that happen is to have any bite issues corrected early. This will ensure better chewing, which also translates into improved digestion. Before your child gets braces in Newark, though, there are some questions you should ask your orthodontist. Read on to learn what they are so your child can get the most out of his or her experience.
The Questions You Should Ask Your Child's Orthodontist
Before the procedure starts to correct your child's misaligned, crooked, crowded or gapped teeth, your dentist will be happy to answer any questions you may have. Take advantage of this opportunity at your consultation, so you can be fully informed about what to expect.
When is It Okay to Wear Braces?
You should ask your orthodontist at what age it's okay for your child to be fitted with braces. Professionals tend to have different opinions on when it's best to apply them, so reach out to your local expert to learn what his or her recommendation is and the rationale behind the decision.
Does Your Child Really Need Them?
You may also be wondering whether your child really needs braces. This is a great question to hash out at a consultation. Your orthodontist will be able to explain the importance of how the teeth fit together (occlusion) and can also assess your child's smile to determine the best course of action.
What's the Cost?
Before committing, you'll want to know what your orthodontist in Newark charges for the procedure. You can also ask about the possibility of a payment plan. Thus, you'll be able to make a more educated decision.
The Advantages of Correcting Bite Issues Early
One of the perks of addressing your child's bite issues early is that it will prevent added insecurities about his or her smile, which are especially common during the teenage years.
Furthermore, it will help to foster a better start to his or her oral health by providing easier access to all of the teeth to clean them properly. This will help to limit trips to the dentist in Newark for cavity fillings and other issues that can arise from poor oral hygiene.
Nothing Beats Confidence
One trait that you want your child to possess as a parent is confidence. That's because you know that it can potentially carry him or her a long way in life. With that said, having a corrected bite will help your child feel exponentially better.
To get the ball rolling on your little one enjoying more aesthetically pleasing teeth, reach out to your Newark orthodontist to schedule an appointment today!
About the Author
Dr. Timothy G. Wigal earned his dental degree from the West Virginia University School of Dentistry. He then went on to receive his certificate of specialty in orthodontics from the West Virginia University Department of Orthodontics. Dr. Wigal still remains eager to grow more, which is why he pursues continuing education classes and seminars annually. He helps children smile with confidence at Wigal Orthodontics and can be reached for more information through his website.
Comments Off

on Ask These Important Questions Before Your Child Gets Braces in Newark
No Comments
No comments yet.
RSS feed for comments on this post.
Sorry, the comment form is closed at this time.