June 9, 2021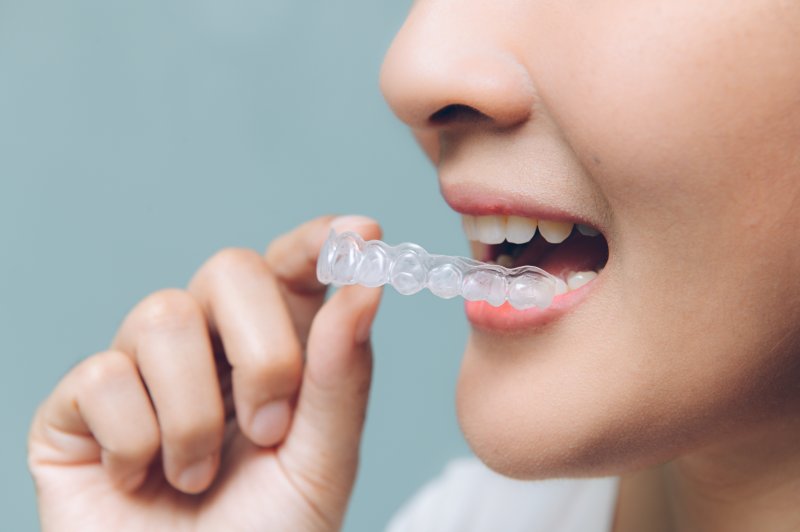 You might be considering Invisalign if you want a discreet solution to straighten your teeth. However, are you worried their impact on your speech will be a dead giveaway that you're wearing clear braces? It's a valid concern to have when it comes to orthodontic treatment. But truth be told, any dental or orthodontic appliance in your mouth has the potential to affect the way you speak. Luckily, any issues experienced with Invisalign are usually minimal and can easily fixable! Read along to find out what you can expect from this treatment and how you can reduce any potential speech impediments.
How Will Invisalign Affect My Speech?
Invisalign uses thin, clear, plastic aligners to shift your teeth into place gradually. Since the trays are so slim, they will only have a minor impact on your speech. You will initially notice a slight lisp for the first few days of treatment. It will be most evident when making the "s", "sh", or "z" sounds. However, it should dissipate as your mouth adapts to the braces.
You might also notice an alteration in speech style when you start treatment. At first, you may speak more slowly and slur words because you're not used to having something in your mouth that restricts movement. But the faster your tongue gets used to functioning with Invisalign, the quicker any alterations will disappear. Talking is the key to speaking normally once again! The adjustment period varies from person to person, taking anywhere from a few hours to several weeks for speech impediments to fade.
How to Reduce a Speech Impediment
One of the great things about Invisalign is that you can correct any changes in speech within a few days. It might be your first instinct to speak as little as possible to hide a speech impediment, but frequent talking is the key to resolving the issue! Here's what you can do to adjust more quickly:
Constantly practice the pronunciation and enunciation of the words that you're struggling with
Try reading aloud to yourself (or others)
Have more conversations with friends or family members
What if My Speech Impediment Hasn't Gone Away?
Lisps are a common issue for most patients during the adjustment period. However, it can be concerning if it doesn't go away within a few weeks. If you've already tried the tips highlighted above and your speech still hasn't returned to normal, contact your dentist or orthodontist. It could indicate a problem with the fit or placement of the mold.
If you're concerned about how Invisalign will affect your speech, don't worry—they do not last long and can be corrected easily by following the tips given above! Above all, the benefits of this treatment far outweigh the minimal alterations in speech.
About the Practice
Our goal at Wigal Orthodontics is to give every patient a healthy, beautiful, and functional smile. Our team of orthodontists provides specialized and expert dental care that goes above and beyond your expectations. We offer Invisalign for patients who want to achieve a straighter smile without the hassle of traditional braces. For more information on how this treatment will affect your speech, visit our website or call (740) 281-0445.
Comments Off

on Can Invisalign Affect the Way You Speak?
No Comments
No comments yet.
RSS feed for comments on this post.
Sorry, the comment form is closed at this time.