April 16, 2021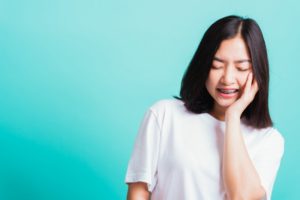 From eating to flossing, it's no secret that braces come with a lot of changes to your day-to-day life. However, one change you may not be expecting is the health of your gums. Swollen, puffy gums often develop during orthodontic treatment. While somewhat irritating and uncomfortable, this side effect isn't usually anything to panic about. However, ignoring your gum health could slow down your orthodontic treatment and cause serious oral health problems in the future! Here's what you need to know about swollen gums with braces and what you should do to keep your smile healthy, comfortable, and on track.
Causes for Swollen Gums with Braces
There are several reasons why you may be experiencing swollen gums while you have braces, like:
Poor oral hygiene: If you don't clean your braces and teeth thoroughly every day, plaque and bacteria accumulation can cause an infection in the gums (gingivitis), which leads to swelling.
Movement of teeth: Straightening teeth naturally may cause slight inflammation in the gums.
Underlying health conditions: Patients with health conditions like diabetes and obesity are more prone to swelling gums, especially while wearing braces.
Gingival hyperplasia: In rare cases, gum irritation and plaque buildup can cause an overgrowth of gum tissue around the teeth.
Your Straightened Smile Needs Healthy Gums
You may be interested in treating your inflamed gums simply because they're tender or you don't like how they look. However, treating your swollen gums is important for your overall oral health and your orthodontic treatment as well! Inflamed gums can easily lead to gum disease, which is a serious oral health condition. If allowed to progress, it can attack your jawbone and destroy the connective tissues that help hold your teeth in place. If your dentist or orthodontist notices signs of gum disease during your treatment, your orthodontics may need to be put on the backburner in order to prioritize your gum health. Your straightened smile needs a strong foundation in healthy gums to be successful.
How to Treat Swollen Gums with Braces
There are a few easy ways you can try easing your inflamed, tender gums at home, including:
Practicing better oral hygiene
Rinsing with warm salt water several times a day
Taking an OTC anti-inflammatory medication as directed
Avoiding tough, sticky, and chewy foods
Using mouthwash, a waterpik, or flossing tool to ensure proper and thorough cleaning
If these at-home treatments don't seem to help or your swollen gums seem to be getting worse, it's time to call your orthodontist. They'll be able to inspect your smile and determine if any hidden issues are causing your gum inflammation and what needs to be done to get your gum health back on track.
About the Practice
Dr. Timothy Wigal and Dr. Jason Lawrence of Wigal Orthodontics are proud to offer affordable, high-quality, and customized care for the smiles of Heath, Mt. Vernon, and the surrounding communities. They're advanced training as orthodontists and state-of-the-art technology ensures that your orthodontic treatment goes as smoothly and effectively as possible. If you have questions about swollen gums with braces, don't hesitate to contact them via their website or at (740) 397-2111.
Comments Off

on Why Braces Sometimes Cause Swollen Gums & What You Can Do
No Comments
No comments yet.
RSS feed for comments on this post.
Sorry, the comment form is closed at this time.