January 31, 2020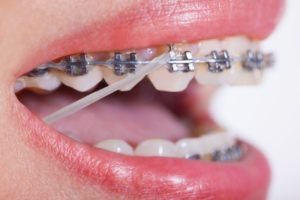 Now that 2020 is here, many people are making changes or working on resolutions that ultimately better their lives. During January, what better time than to improve the alignment of your smile? If you've been wanting to upgrade the appearance and health of your smile, now is your chance! Keep reading to learn why now is the best time to get perfectly straight teeth with braces in Newark, OH as well as what you can expect during your first orthodontic visit!
New Year, New Confidence
If you've been hiding your smile for photos or in public because of crooked teeth, the new year is the perfect time to make a change! Whether you know it or not, your smile affects your confidence, and it says a lot about you. Studies have shown that a healthy-looking, straight smile automatically makes people perceive you as more successful, youthful, trustworthy, and friendly. That's why during this time of resolution, it's a good idea to make your smile a priority because straightening your teeth affects so much more than your oral health. Then, in 2020, you can enjoy boosted confidence and self-esteem!
Straight Teeth and Good Oral Health
It's also important to know that having straight teeth is beneficial for your oral health, not just your appearance. In fact, a crooked smile is harder to brush and floss, allowing plaque and bacteria a better opportunity to cause decay and infection. However, straight teeth allow you to thoroughly brush all surfaces of your teeth, and it makes flossing a breeze compared to when your smile is misaligned. As a bonus, less plaque and bacteria caught in crooked teeth will also mean that you have better breath during your day-to-day life.
What to Expect During Your First Visit
If you're ready to straighten your smile in the new year, your first step is to visit your orthodontist in Newark, OH. During this visit, they will carefully examine your smile, the degree of your misalignment, and evaluate your bite. Then, they can develop a personalized treatment plan with useful information like cost and estimated treatment time. From there, you can book an appointment, where your orthodontist with place your braces.
Are you ready to get the straight smile of your dreams? Now that you know the benefits of having beautiful alignment, contact your orthodontist to take your first step toward upgraded beauty and health!
About the Practice
At Wigal Orthodontics, Dr. Timothy G. Wigal and Dr. Jason Lawrence are a team of orthodontists with a passion for creating amazing smiles. They offer a variety of orthodontic treatments to give their patients the results that they've always wanted. For any questions, they can be reached through their website or by phone at either of their Heath and Mt. Vernon locations.
Comments Off

on New Year, Time for a New Smile!
No Comments
No comments yet.
RSS feed for comments on this post.
Sorry, the comment form is closed at this time.