December 23, 2019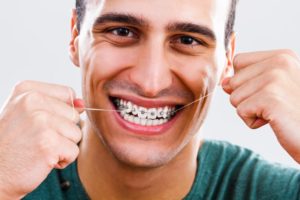 If you have bite issues, the most reliable way to correct them is to wear braces in Newark. While this method of treatment yields sustainable results, there are some challenges that can arise along the way. One of them is the development of white spots on your teeth, but what causes them to form? As you continue reading, a local orthodontist provides the answer and explains what you can do to prevent any smile blemishes.
What Causes White Spots to Develop?
White marks (also referred to as decalcification) on the teeth are warning signs of a developing cavity. They can be brought about by plaque buildup that causes calcium to leach out from the tooth. If the problem goes untreated, the next step can be a full-blown cavity that will continue penetrating deeper into the tooth until its stopped.
Where Does Plaque Come From?
The building blocks of plaque are oral bacteria. While the microorganisms are always present in the mouth, when foods or beverages are consumed, bacteria flock to the area to feed on any leftover particles. Over time, several forms of bacteria can mingle with the saliva to form plaque, which is a clear sticky substance that clings to the teeth and along the gum line. The good news is that there are ways to prevent this from happening, even if you're wearing braces.
Protecting Your Teeth
When you're fitted with braces, it can be more difficult to perform oral hygiene, but this is something you just can't afford to compromise on. That's because it's your primary line of defense against the development of plaque and any unsightly white spots.
Here are some cleaning methods that are designed for people wearing braces:
Use an electric toothbrush – Your best option is a toothbrush that can oscillate at a lower speed to prevent any damage to your brackets and wires, while still providing a thorough cleaning that will agitate and remove any lingering debris.
Rinse thoroughly – One of the simplest ways to clean your teeth and braces is to rinse often and thoroughly. This will help to address any particles that are still present after you've brushed your teeth.
Floss carefully – While it can be a challenge to floss with braces, it's still quite necessary, as it allows you to get into the tight spaces between your teeth where bacteria love to hide. Waxed floss generally works better to maneuver around the wires without breaking.
By being cautious and consistent in practicing oral hygiene while receiving care from an orthodontist in Newark, you can soon have a perfectly straight and spot-free set of teeth!
About the Author
Dr. Timothy G. Wigal is a graduate of the West Virginia University School of Dentistry. After graduating, he went on to receive a specialty certificate from the West Virginia University Department of Orthodontics, where he was trained in the diagnostic and treatment philosophy of the Six Elements of Orofacial Harmony. Dr. Wigal provides his patients with the absolute best in orthodontic care at Wigal Orthodontics, and he can be reached for more information through his website.
Comments Off

on How to Prevent White Spots from Developing When Wearing Braces
No Comments
No comments yet.
RSS feed for comments on this post.
Sorry, the comment form is closed at this time.