November 23, 2019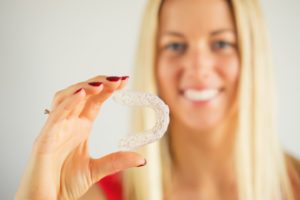 In the not-so-distant past, the only way to correct a poor bite was to undergo treatment with metal braces. Thankfully, times have changed. With the advances in orthodontic care, patients now have a more appealing, discreet and, in some cases, faster way of fixing their teeth: Invisalign in Heath, OH. Should patients expect the treatment process to be painful, though? To get the answers to these questions from an expert, continue reading.
What is Invisalign?
Instead of metal brackets and wires, the Invisalign method uses a series of custom-designed, clear braces to gradually correct gapped, misaligned, crooked or slightly crowded teeth. After designing a treatment plan to perfectly meet the patient's needs, an orthodontist will then send it to a trusted Invisalign lab that will fabricate a full series of clear braces.
Once they arrive at the orthodontist's office, the patient will be invited back to retrieve the full treatment set. At this time, the following guidelines will typically be provided:
To wear the Invisalign clear braces for at least 22 hours a day
To wear each pair for two weeks, and then exchange them for the next set in the series
To remove them before eating or performing oral hygiene
To clean them after every removal
While these are important tips for managing life with Invisalign and ensuring a successful outcome, it still leaves one question unanswered: Is Invisalign treatment painful?
Pain with Invisalign?
When assessing pain relative to orthodontic care, the main issue is the tension provided, which is just a necessary part of the adjustment process. This doesn't necessarily have to be painful, though?
For patients who are fitted with traditional braces, one of the common complaints is that the tension provided by the metal wire is especially uncomfortable in the earlier stages of treatment. The good news is that with Invisalign, the discomfort is typically less acute.
However, it's still not uncommon for there to be some initial pain from the custom-designed trays fitting snugly against the teeth. Thankfully, any discomfort will usually be short-lived.
How to Lessen Any Pain
If you're experiencing some initial pain from wearing Invisalign clear braces, you can take the following steps to get some relief:
Drink cold water.
Suck on ice cubes.
Apply a cold compress or ice pack to the cheek.
Avoid hard or crunchy foods when your teeth are sore.
Take an over-the-counter medication like ibuprofen.
Don't avoid chewing, as it's an important part of the adjustment process.
With Invisalign and the expert care of your orthodontist in Heath, OH, you have an excellent opportunity to achieve the smile of your dreams. Better yet, you don't have to live in pain to see the results you're looking for!
About the Author
Dr. Timothy G. Wigal earned his dental degree from the West Virginia University School of Dentistry. So he could gain the expertise necessary to meet any orthodontic needs, he went on to receive a specialty certificate in orthodontics from the West Virginia University Department of Orthodontics. Dr. Wigal helps patients achieve beautiful and functional smiles by providing Invisalign clear braces at Wigal Orthodontics, and he can be reached for more information through his website.
Comments Off

on Is Treatment with Invisalign Painful? The Answer Inside
No Comments
No comments yet.
RSS feed for comments on this post.
Sorry, the comment form is closed at this time.