November 12, 2019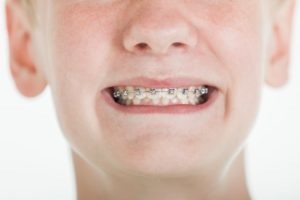 Oh, the excitement that the holiday season brings. When you least expect it, you may run into a group of people singing festive songs, gorgeous lights that adorn trees and houses, and tasty delights. While this is definitely a magical time of the year, if you or your child is wearing braces, it's important to keep some pointers in mind to prevent an orthodontic emergency that could ruin your holiday fun. Continue reading to get some expert tips from your orthodontist in Newark.
What is Considered an Orthodontic Emergency?
Any situation that involves an orthodontic appliance breaking, dislodging or causing unmanageable pain, is considered an orthodontic emergency. Of course, the most inconvenient time of the year for something like this to happen would be during the holiday season. Since emergencies don't necessarily happen when we'd like them to, it's best to be prepared.
The Common Orthodontic Emergencies That Can Occur
The following is a list of the types of orthodontic emergencies that can typically happen around this time of year:
Loose Bands – Metal rings that are cemented around the back teeth
Loose Spacers – Rubber rings that are temporarily placed between the teeth
Loose or Broken Brackets – Metal pieces that are affixed to the teeth and allow the wire to apply the necessary tension
Protruding or Broken Wire – The thin metal piece that is tightened throughout the process to apply tension to adjust the teeth
During the holiday season, eating foods that are sticky, crunchy or sharp, or improperly cleaning the teeth, can lead to the above-listed issues.
Some Holiday Tips to Keep in Mind
Protecting a set of orthodontic appliances during the holiday season is simple, as long as you or your child "sticks to the script." That means that during this time of the year, it's important to follow all the orthodontist's protocols as normal. That means avoiding foods or beverages that could cling to the components and cause them to dislodge or break.
It also helps to drink plenty of water to adequately flush the mouth of any lingering particles after a meal.
When performing oral hygiene, it's critical that the right tools be used. There are special toothbrushes and flosses designed for people wearing braces, and if used carefully, they provide a way to clean the teeth in a safe and effective manner.
By taking heed to these suggestions, you or your child can enjoy this joyous time of year without damaging your braces in Newark, OH, which means you'll be able to get a step closer to achieving a brand-new smile!
About the Author
Dr. Timothy G. Wigal is a graduate of the West Virginia University School of Dentistry. After earning his dental degree, he went on to receive his specialty certificate in orthodontics from the West Virginia University Department of Orthodontics. Dr. Wigal helps patients correct their bites and holiday mishaps at Wigal Orthodontics, and he can be reached for more information through his website.
Comments Off

on How to Avoid an Orthodontic Emergency During the Holiday Season!
No Comments
No comments yet.
RSS feed for comments on this post.
Sorry, the comment form is closed at this time.