January 28, 2019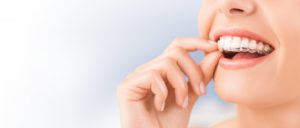 You've finally made your mind up to do something about your troublesome bite woes, but you'd prefer a more discreet treatment process than what is offered with traditional orthodontics. Is there an alternative available? A local orthodontist says Invisalign in Heath, OH may be the perfect solution for you. Read on to learn the "ins-and-outs" of the process.
What is Invisalign?
The Invisalign process involves the usage of clear, plastic aligners to gradually and comfortably correct your bite. Instead of receiving monthly adjustments, you'll wear each set of aligners for around two weeks and then discard them for the next set in the series, following this pattern until the treatment process is completed.
The usual steps of the procedure are as follows:
The process starts with your orthodontist evaluating your teeth and mouth to make sure Invisalign is right for you.
Bite impressions are then taken, and with the help of in-house software, a full treatment plan is developed.
The treatment plan is then sent to a certified Invisalign lab that will create the full set of aligners.
Once your aligners are ready, you'll return to your orthodontist's office to be fitted and to receive instructions on how to properly utilize the aligners.
The Early Stages of the Invisalign Process
One of the differences between the Invisalign process and traditional orthodontics is that with the former, you won't have to visit the orthodontist for adjustments. That's because Invisalign doesn't rely on brackets and wires to correct your bite.
Instead, the custom-designed treatment will account for wear your teeth should be at particular stages of the process. Therefore, to stay on track, it's important for you to wear your aligners for at least 22 hours a day.
In the beginning, you may notice a little soreness, but that will decrease as your teeth adjust to the slight pressure applied. For any initial discomfort, you can take an over-the-counter pain reliever like ibuprofen.
The Perks of Invisalign
Here are some of the advantages you'll enjoy when you take the Invisalign route:
Because the aligners are removable, you'll be able to maintain your normal diet.
You won't have to make any concessions in your oral hygiene practices. Thus, you can still brush and floss your teeth.
Because of their low profile and clear design, the Invisalign aligners are virtually unnoticeable.
How Long Does the Treatment Take?
To receive an accurate treatment time, you'll need to visit your orthodontist, but generally, the Invisalign process is much shorter than traditional braces. The main factor that will determine your treatment time will be the complexity of your bite issues.
When you seek Invisalign treatment from your local orthodontist, you will not only be improving your appearance but also your jaw health. So to learn more about the process and get on the road to making the improvements you need, reach out to schedule a consultation.
About the Author
Dr. Timothy G. Wigal earned his dental degree from the West Virginia University School of Dentistry. He then completed a three-year residency that culminated in a certificate of specialty in orthodontics. A member of the American Association of Orthodontics, Dr. Wigal helps patients enjoy beautiful smiles with Invisalign at Wigal Orthodontics. He can be reached for more information through his website.
Comments Off

on A Beautiful New Smile with Invisalign in Heath, OH!
No Comments
No comments yet.
RSS feed for comments on this post.
Sorry, the comment form is closed at this time.