October 16, 2018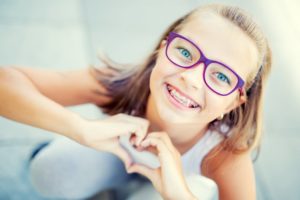 One of the great fall celebrations is Halloween, a time when children are able to use their imaginations and become their favorite characters for a night. Also exciting for them is the chance to enjoy the chocolates, taffy, nougat and other delightful flavors that are in abundance. Your emergency orthodontist in Heath, OH says for children who have braces, though, there are some guidelines that need to be followed to prevent an emergency. Read on to learn 4 helpful tips!
What's an Orthodontic Emergency?
An orthodontic emergency is when there is a malfunction or damage to a set of braces. One of the key contributors to a damaged orthodontic appliance is eating the wrong types of foods.
Here are two of the more common types of emergencies that may arise:
Poking or Broken Archwire – Sticky candies can cause the archwire to dislodge and poke the cheeks, which can be painful for your child.
Loose or Broken Brackets and Bands – Another outcome of eating the wrong types of candies is that by being sticky, they can cause the brackets and bands to either become loose or completely break.
4 Halloween Tips
The last thing your child wants to hear is that he or she can't enjoy any of the sweets that Halloween is known for. So here are 4 tips that will help to make the night fun yet safe:
Keep the Right Candy Handy – If your child eats candy, it's best to have options that are very soft and chewy like chocolate or cookies.
Check the Candy Bag – Before your little one consumes any candy collected, be sure to check the collection bag to make sure there is nothing that will harm his or her braces in Heath, OH.
Make Your Own Snacks – A way to have more control over what your child eats, is to prepare your own orthodontic-friendly snacks. Two options that most kids love are cupcakes and brownies – both less likely to harm braces.
Encourage Oral Hygiene – Another problem with candy consumption is the sugar content, which can lead to bacteria growth and cavities. Furthermore, lingering particles can eventually compromise the appliance. Thus, it's important to monitor your child's brushing and flossing after eating any snacks.
By keeping these tips in mind, you and your little one will be able to enjoy a fun-filled, ghoulish and ghostly night that will be etched into your memories for years to come!
To learn more about how to properly take care of braces this fall, reach out to your local orthodontist today!
About the Author
Dr. Timothy G. Wigal is a graduate of the West Virginia University School of Dentistry. He followed that with a three-year residency that centered on orthodontics and dentofacial orthopedics. Throughout his career, Dr. Wigal has remained committed to be the best professional he can, which is why he takes continuing education courses and maintains affiliation with such organizations as the American Association of Orthodontics and the Six Elements Study Club. He corrects bite issues with braces and treats orthodontic emergencies at Wigal Orthodontics, and he can be reached for more information through his website.
Comments Off

on Your Emergency Orthodontist in Heath, OH Gives 4 Halloween Tips!
No Comments
No comments yet.
RSS feed for comments on this post.
Sorry, the comment form is closed at this time.