September 1, 2018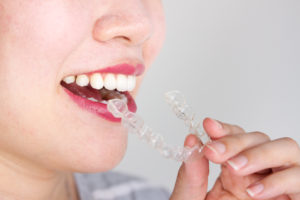 You're eager to correct your bite woes, but you desire to do so in the most dignified manner possible. The Invisalign method of addressing crooked, crowded, misaligned or gapped teeth was created with people like you in mind. It provides a way to make functional and aesthetic improvements to your teeth using breakthrough technology. However, there are some things you should know about the process before you commit. Read on to learn more from your orthodontist in Newark OH.
What is Invisalign?
The Invisalign system for correcting bite issues relies on a series of clear, plastic trays that are custom-designed to fit your teeth at different stages of your treatment process. Each set of trays is worn for two weeks and then discarded for the next pair in the sequence. This pattern is continued until the treatment is completed.
Your orthodontist uses the latest technology to evaluate your smile, pre-determine how you'll look once the procedure is done and map out how long the treatment will take to complete. This information is then sent to a trusted lab that will fabricate your trays.
What's Life Like When Wearing Invisalign?
The most important thing to know about wearing Invisalign aligners is that you'll be able to lead a fairly normal life, but it requires that you take a responsible approach. Here's what to expect:
Eating – One of the big advantages of the Invisalign method is that it allows you to eat all the foods you normally would. The trays are to be removed before consuming, but you have to resist the urge to leave them out longer than necessary because that will compromise your results.
Drinking – The only thing you should drink while wearing your Invisalign aligners is water. Before consuming anything else, your trays will need to be removed.
Talking – When you're first fitted with your new trays, you may notice some changes in how you speak. As your teeth start to move, though, you'll see improvements in your ability to speak normally.
Initial Discomfort – There will be some initial discomfort when you're fitted with your Invisalign aligners. This is normal for any process of adjusting your teeth, but don't fret. The discomfort will soon subside.
Practicing Oral Hygiene – Your oral hygiene is extremely important when wearing Invisalign aligners. That's because the trays fit tightly against your teeth and create the optimal environment for bacteria to grow. To prevent the host of problems that can arise, it's important to clean and soak your trays. Then, be sure to brush and floss your teeth at least two times a day.
A Final Tip
To maintain the results that you get with your Invisalign aligners, make sure to wear them at least 22 hours a day. Keep in mind that your entire treatment plan is based on adhering to this protocol. Thus, by following the plan, you won't have to wear your aligners longer than necessary.
To learn more about the process, contact your Newark OH orthodontist to schedule a consultation. Soon, you'll be on the road to smile perfection!
About the Author
After graduating from the West Virginia University School of Dentistry, Dr. Timothy G. Wigal received his certificate of specialty in orthodontics from the West Virginia University Department of Orthodontics. He uses his vast knowledge to help patients experience beautiful and functional smiles with Invisalign at Wigal Orthodontics and can be reached for more information through his website.
Comments Off

on Your Orthodontist in Newark OH Says Expect This from Invisalign
No Comments
No comments yet.
RSS feed for comments on this post.
Sorry, the comment form is closed at this time.